had the chance of spending my Fest as a part of the Fest photo team, where I tried to capture as many bands as possible. So within the three days I took pictures of around 75 bands in most of the Fest Venues (No CMC this year unfortunately).
First from a photographers perspective:
As this is a photo blog, i have to start with the Equipment i have used. I did not came with a flash, in contrast to most of the other fest photographers. I really really like that kind of pics my collegues at the photo team did (wideangle & flash) and i can say big compliments to Lorien Lamarr, Marc Gärtner, Katie Claire and all the others. My main setup was a full frame camera with a 50 1.4 Canon Lens. In rare occations i also brought my Canon 17-40mm wideangle or my fisheye lens. I did not use a flash because I wanted to have the pictures a more realistical look (the flash often takes away a bit of the style the location origilnally had). Shooting in the dark Fest venues meant shooting at high ISO and with low shutted speed. Also the Canon unfortunatley made me kinda trouble with the focus, so next I will bring the Sigma 50mm wihch is clearly better (Blogpost with a review of the Sigma 50mm 1.4 soon here) .
Friday, 11/01
Fest started off with Officer Bradfords Pool Party at the Holiday Inn. Although the weather was not really Florida like, Bradford encouraged some Festers to take a dive into Gainesville's largest rooftop pool to the sound of 90s trash music. Fun to start a festival with that kind of music. Normally this would be the ender of a three day festival.
After a short stop at Mother's Pub to see The Butts, one of my all-time Fest favorites – Masked Intruder – were already on my schedule. They opened Bo Diddley Plaza for this year's Fest with a banger. From now on it went crazy for the next hours. Canadian Rifle showed, that Durty Nelly's can be one of the most kick-ass venues at Fest, Night Witch took over Loosey's and Wolves&Wolves&Wolves&Wolves demonstrated, why they are no more just an insider tip.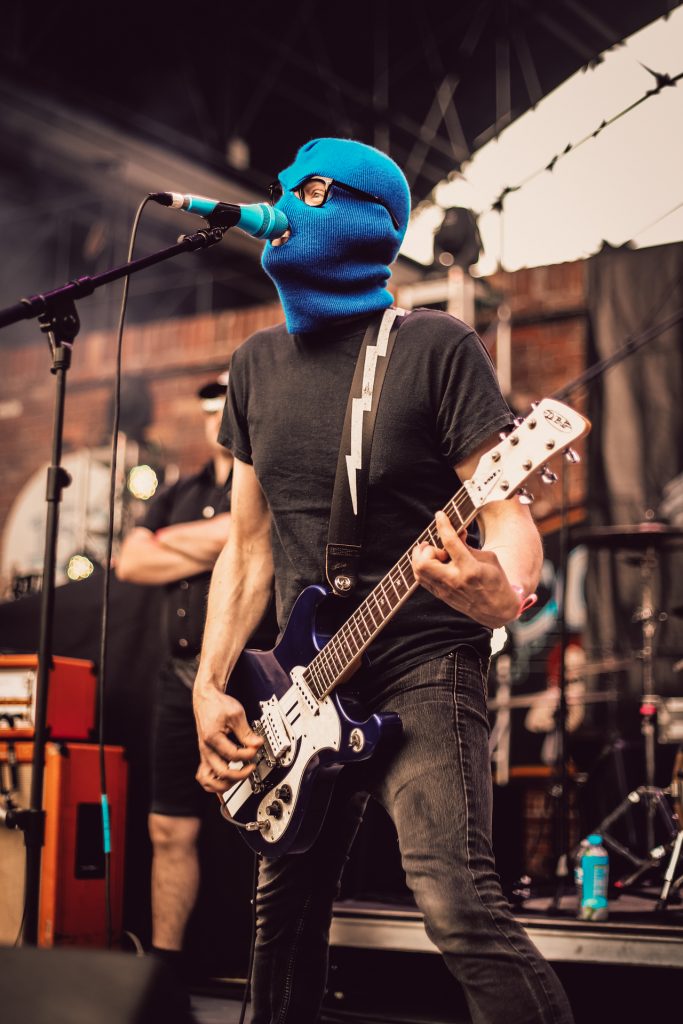 After that, the #1 reason why I went to Fest this year was up next (I mean there are thousands of other reasons, but I consider this as my number one pick). Washington's Kill Lincoln playing a Catch 22 cover set in one of my favorite locations on the whole planet. Loosey's was completely packed and the enthousiastic crowd showed for the first time this weekend (spoiler alert: more to come), that ska is not dead. Not only playing songs of the Keasbey Nights album, they packed the best songs into this 35 minutes, of course ending with Keasbey Nights itself.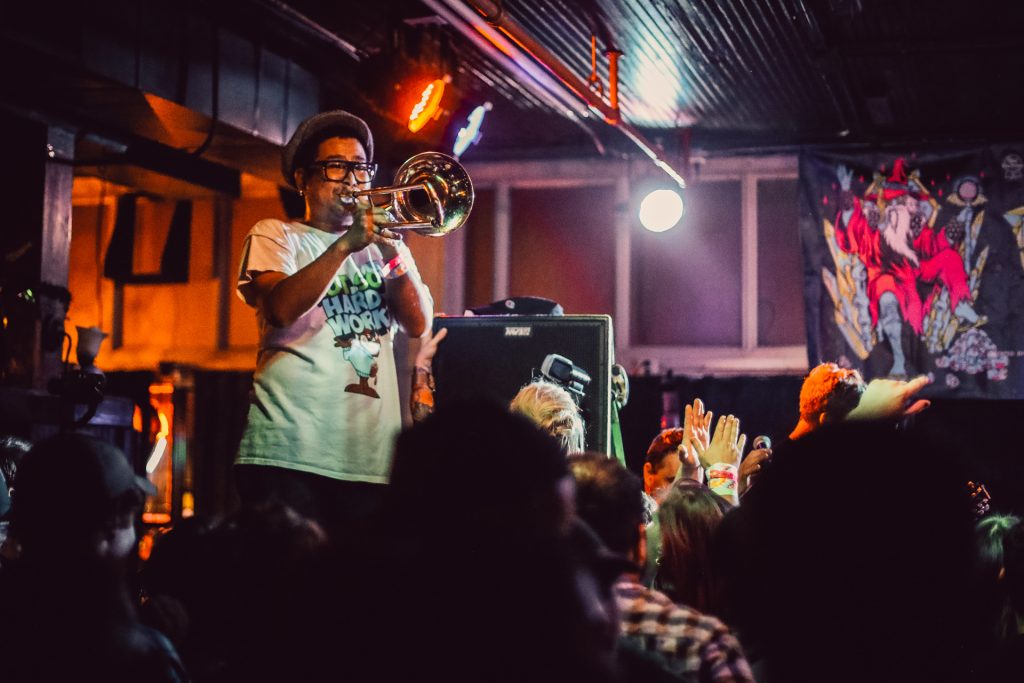 My personal schedule kept being ska-heavy with Less Than Jake at Bo Diddley next. As usual they never disappoint, especially when it's a home game. After some songs of Oh The Humanity at Loosey's and Michael Kane & The Morning Afters at Durty Nelly's, Boss Daughter provided ska influences again, although it's just more the addition of a trombone to straight forward punk-rock – enjoyable nevertheless.
Following short photo stops at Nightmarathons, Squirtgun, Invaluable, Pity Party and Lone Wolf, I ended up at Durty Nelly's again, where I got hit by Dave. At least I assume his name was Dave. The guitarist of Too Many Daves fell off the stage after he got pushed by his band's jumping frontman (also Dave?). He struck my camera direct with this eye, but showed no pain and continued as if nothing happened. Good man. I think I saw him next day with a black eye, but I am not really sure about this fact anymore. Anyway, their show was impressive.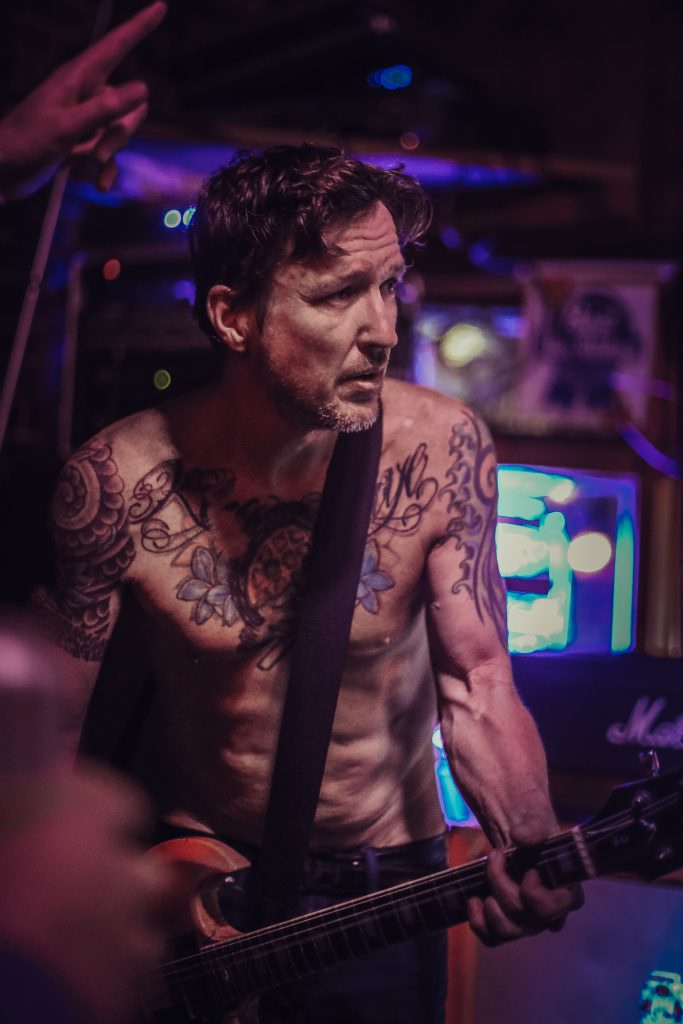 But the real two highlights of this day were still to come. First up was the final US show of ASTPAI, who unfortunately will split up in 2020. It was amazing to watch them once again giving everything on stage at High Dive with "Honest or Sentimental" closing their set as well as this chapter.
Secondly and finally, Fest Friday ended at Loosey's, where Florida's very own Wolf-Face played a Misfits cover set. This time not dressed in their trademark yellow, but all in black, they smashed the greatest hits of the horror punk legends with "Where Eagles Dare" as my personal favorite.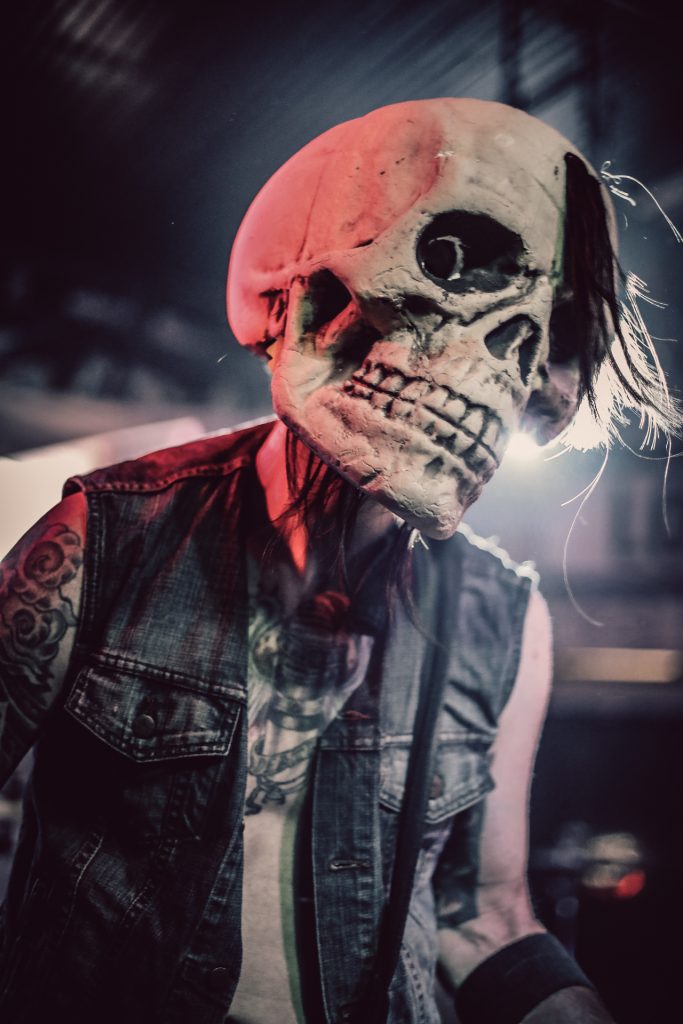 Saturday 11/02
My Saturday started quite early and gladfully without a hangover. So I caught the very first set of the day and enjoyed a Ray Rocket (including hangover) acoustic set containing some funny stories about his Fest Friday (he was rad).
Right after that the first really OMG moment of this day struck. I knew that Billy Liar is a kick-ass musician, but I didn't know that his performance with full band are that power loaded. Damn, I enjoyed to start the day like this.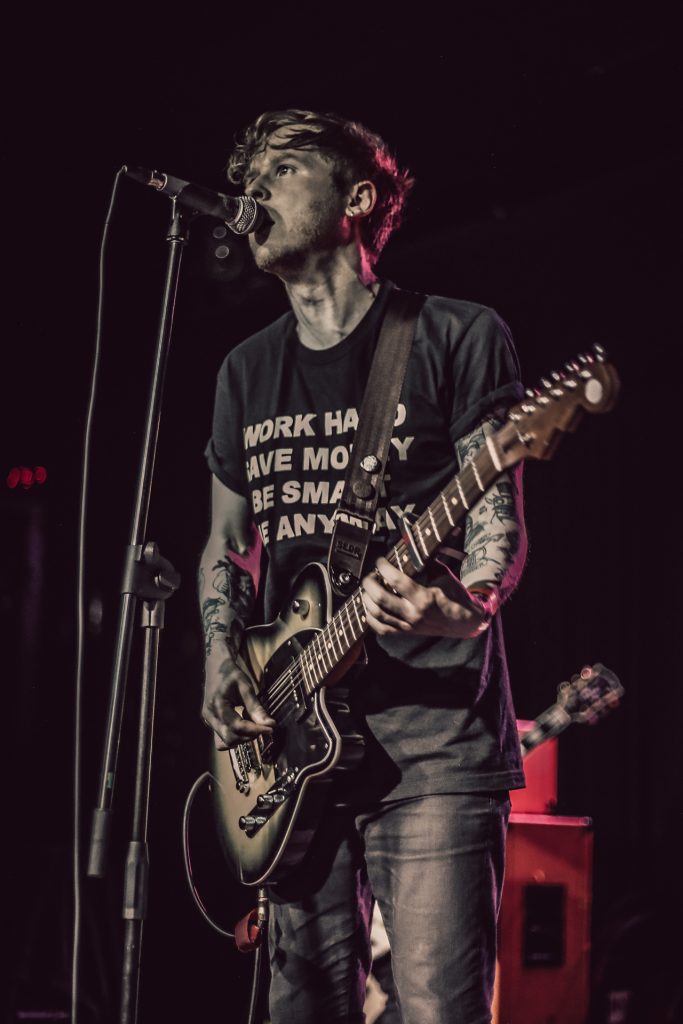 The day continued in a more laid-back form, as AJJ and Tim Barry were some calmer acts to relax a bit between all the Fest mayhem. Rational Anthem at The Wooly and Teenage Bubblegums at Looseys's then reactivated my living power, which peaked again at the awesome sets of Guerilla Poubelle and A Wilhelm Scream. From a photographers perspective (especially when you shoot without flash) Bo Diddley Plaza was the best venue for taking pics. And when a power horse like Nuno Pereira is on the stage, it's even more fun. Thumbs up for that performance.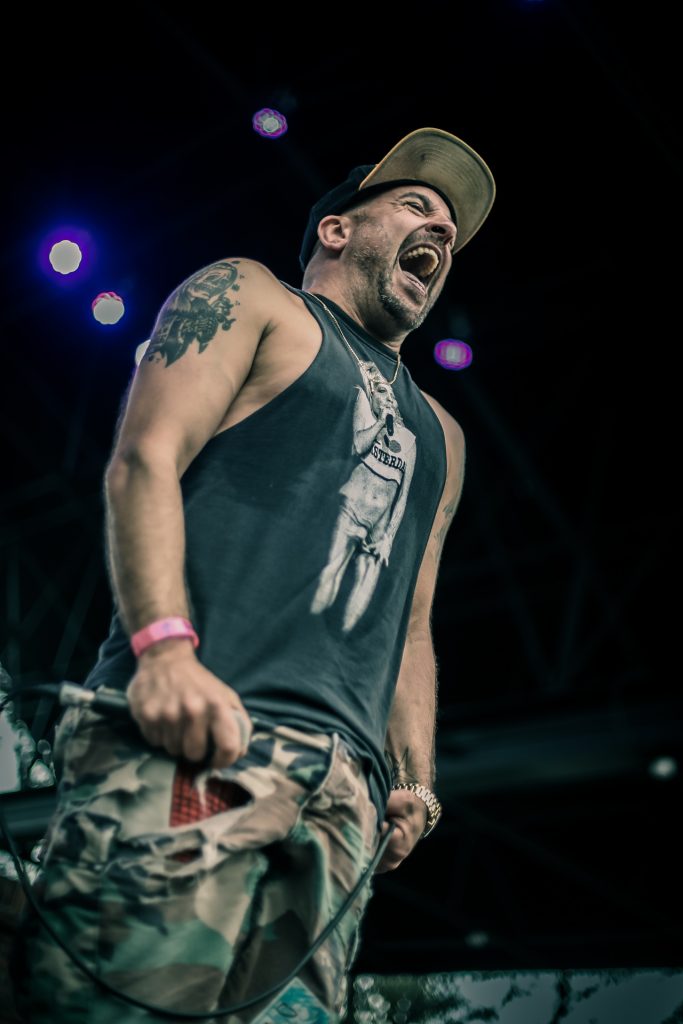 The second Wolf-Face set of this year's Fest went down at The Wooly, which is clearly not one of my favorite venues at Fest. But anyway, this set was even more bonkers than the Misfits cover set, as the bigger crowd went really really crazy. One of the bands I hope to see the most in Europe sometime in the future.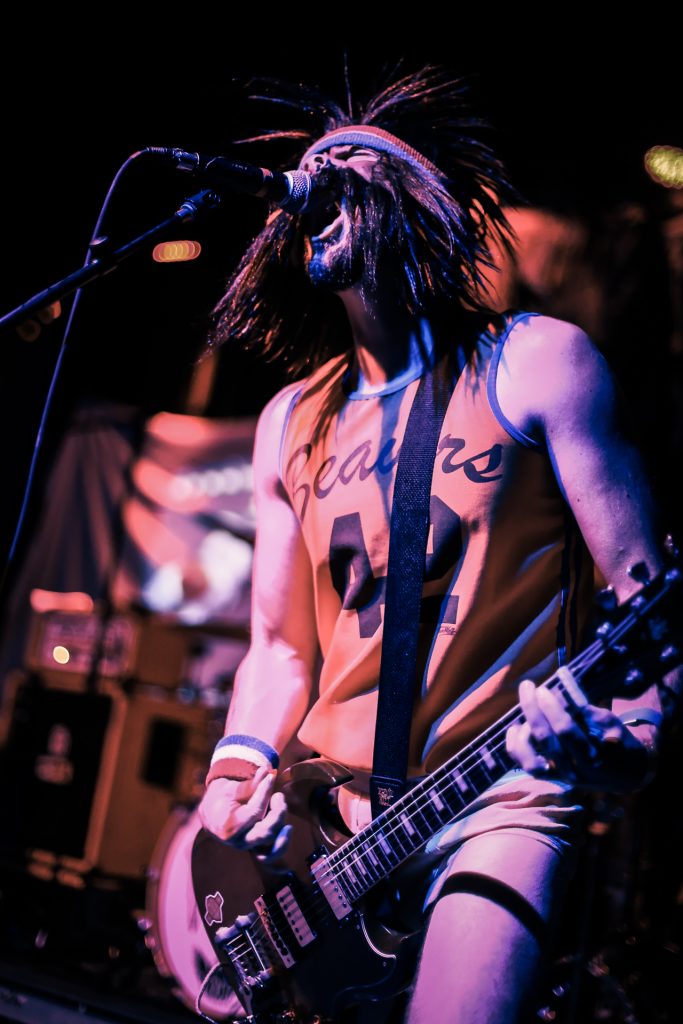 Up next was one of my favorite Florida bands: The Dollyrots at Loosey's. Although the sound was not perfect, the show was quite enjoyable. After a location change to Palomino, I watched one of the most fun set to take pics. Pity Party simply had so much energy on that tiny stage that I just can't find the right words. Anyway. Awesome.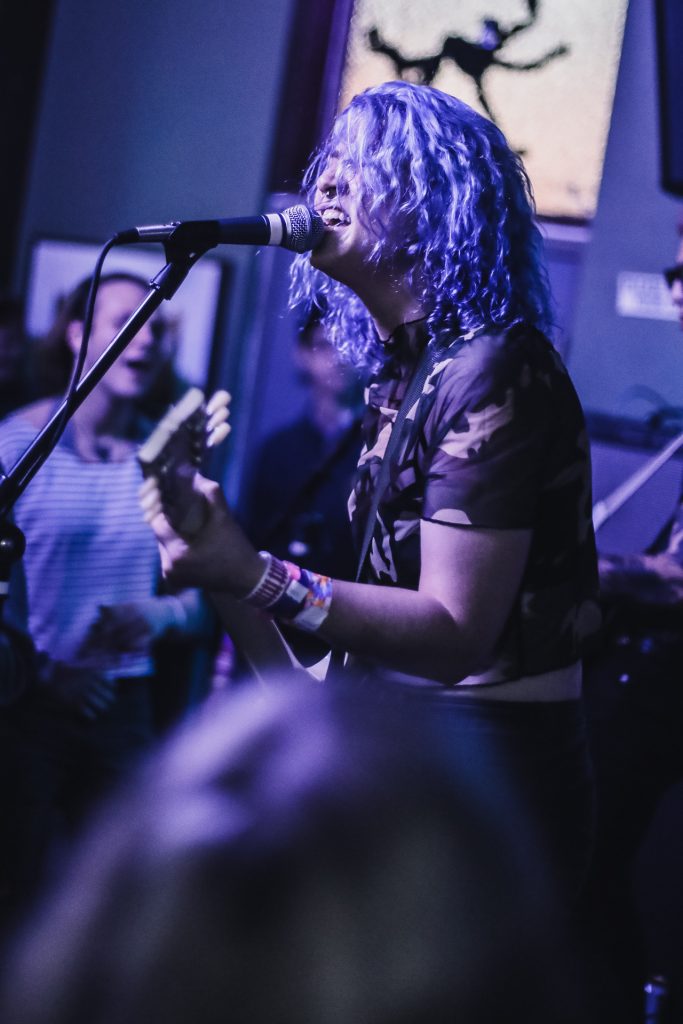 Fast forward to the end of my day, which ended at The Wooly (after a short stop at the Rancid cover set of Problem Daughter), where first The Eradicator made the second best performance by an artist with a ski mask and thenThe Bombpops closing out my Saturday. Oh yeah, I was at Spanish Love Songs too, just remembered that side fact (no offense, I just didn't take pictures at their set).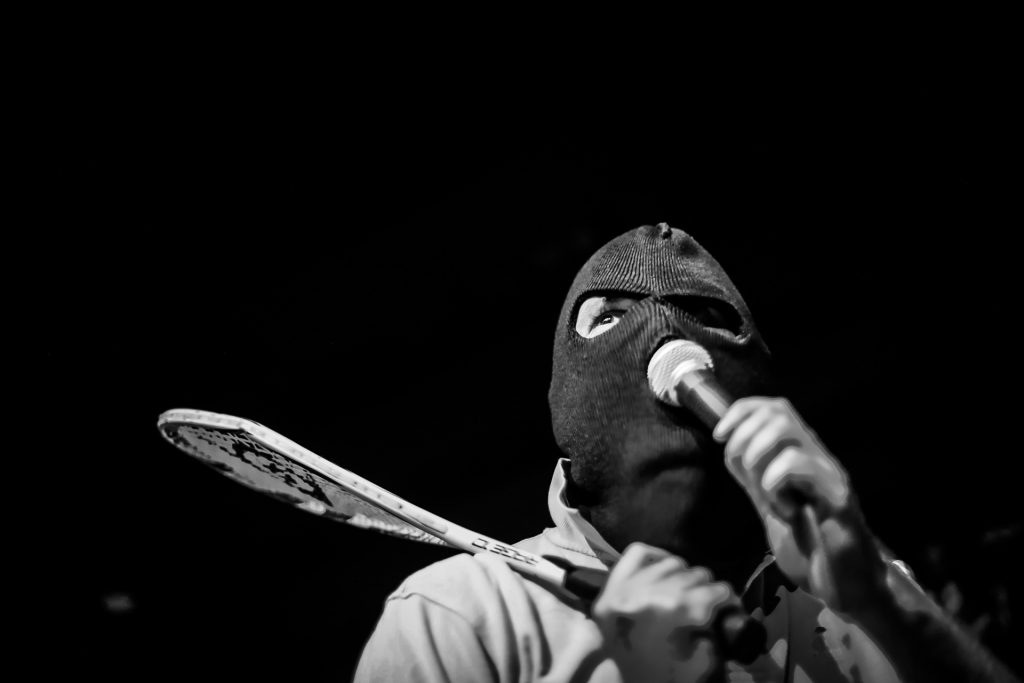 Sunday 11/03
Sunday opened like Saturday. Without hangover but with music of Billy Liar – this time acoustic at Big Lou's. Good pizza, good music (check out "The View from Here" from his Some Legacy LP). After short stops at Sensual World and Kid You Not it was time for my personal highlight of the day – FEST FUCKING WRESTLING – I don't want to review this right here now, but long story short. I took pictures at a WWE house show yesterday, but Fest Wrestling was miles ahead, although there were a lot of comedy gimmicks.
As Wrestling took away most of my day (including awesome sets of DFMK and the Randy Savages), there was finally time for Ska Sunday at Downtown Fats. Kicking off with the Duppies, followed by Eat Defeat and S.M.N. from Japan, the crowd went wild at the Kill Lincoln set (which included a Catch 22 cover for all those who missed the cover set on Friday). I got hit by the stagediving trombone player, but laughed anyway (after I checked my equipment).
But the best part was finally seeing Skatune Network live. Kicking it off with the famous My Chemical Romance – I'm Not Okay cover (feat. Night Witch), followed by Blink 182 – First Date (feat. Kill Lincoln) and Green Day – Basket Case, the whole venue went bonkers. The set was spiked with gems (Smashmouth!) and of course ended with his most famous cover Dammit. I was wasted after partying at this set.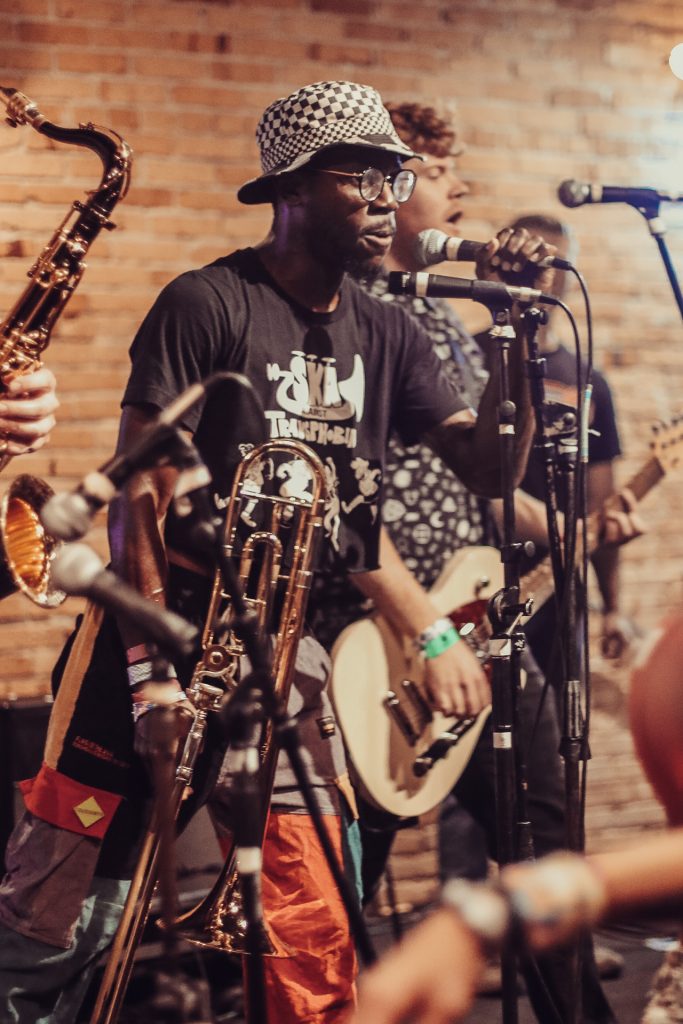 So, I had to finish Fest the good old-fashioned way: watching some bands at Durty Nelly's and hanging out with my friends of Boss Daughter celebrating another year of punk rock, friends and PBR.
PS. HOT DOG GUY: I FUCKING APPRECIATE YOUR WORK!
Some more impressions of Fest 18: